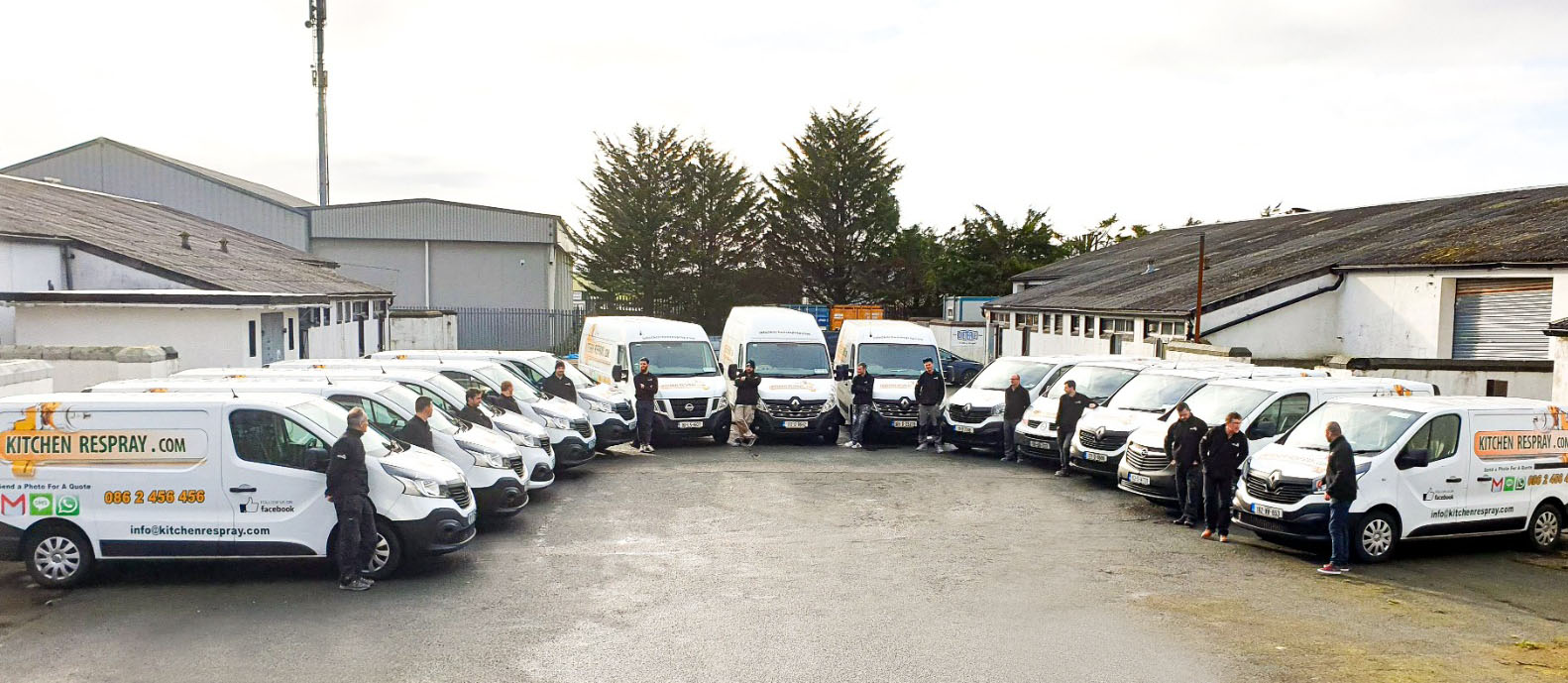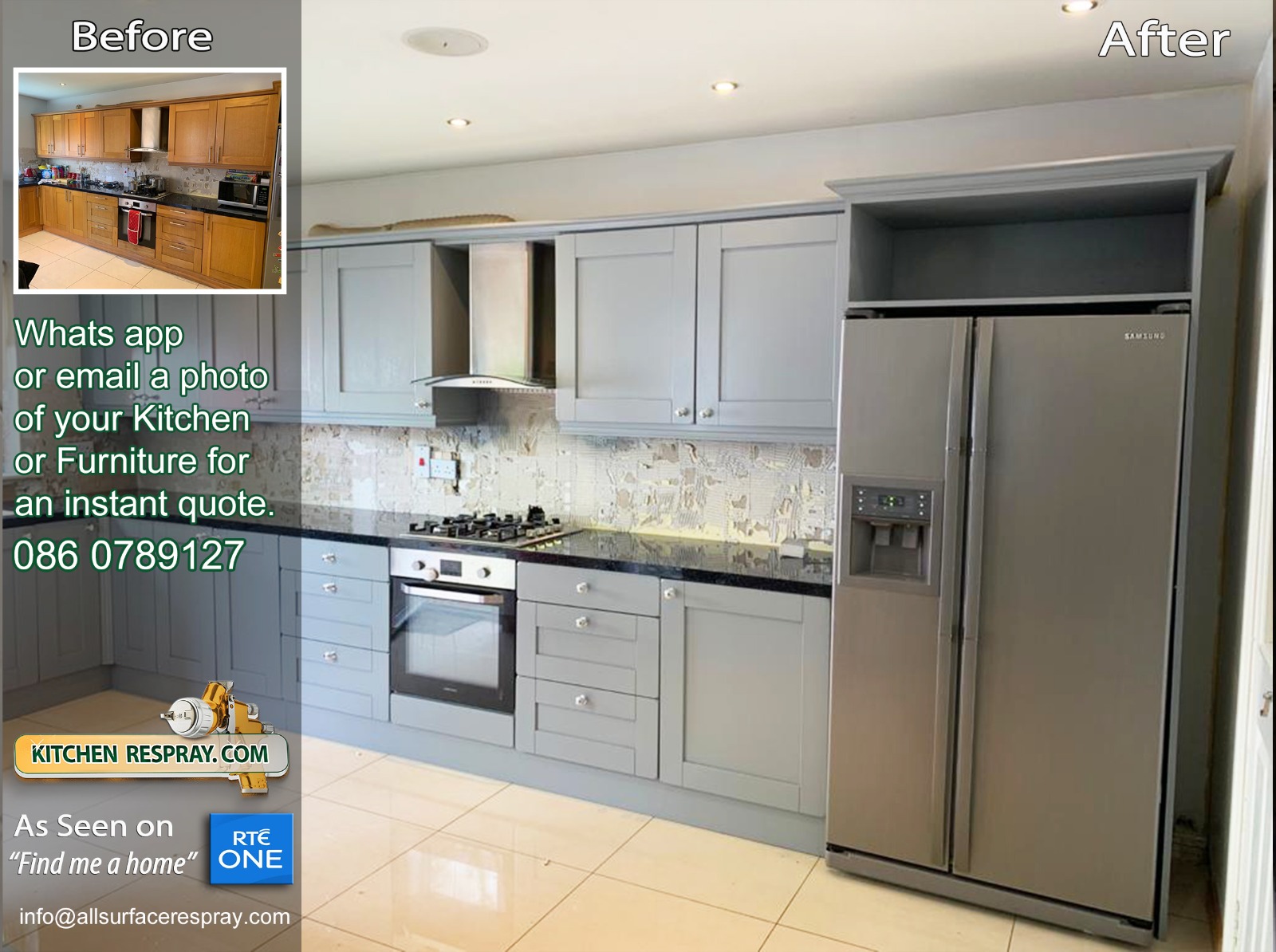 What is Kitchen Respray?
The kitchen respray is precisely what it sounds like. Rather than tearing your cabinets out, they are simply taped off to prevent excess spray, and they are then spray painted the colour you want! It sounds simple, in fact, it almost sounds too good to be true, but our before and after pictures don't lie. When choosing a kitchen respray service don't compromise price for quality. Choose Kitchen respray.com.
How much does it cost?
Prices vary depending on the size, style and finish of your kitchen. Kitchen with islands and utilitys cost a little more. Small Kitchens start at around €1,250  Average Kitchens are usually €1,800 Larger Kitchens usually cost upward of €2,950 and obviously very large kitchens can be more. It still totals to be around 25% of the replacement cost.
How much can I save?
What if we told you that you could paint your kitchen cabinets without tearing down your or investing large amounts of money? You can spray paint your kitchen for a quarter of what it cost to replace it. Sometimes, your kitchen cabinets are just fine, and you are performing the remodel simply to add a new splash of colour.
Welcome to Respray my Kitchen.ie
If you want an instant quote please link here
Respray My Kitchen
A kitchen is the most valuable room in the entire house at times. The condition of this room can help or hinder the value of the home. This is why it is important for a homeowner to strive to maintain this room throughout the life of the house. When your kitchen begins to show wear and tear, there are a couple of different ways to recapture its favourable condition and appearance. One is replacing all the kitchen cabinets in the room with brand new units. The other method is called kitchen respray.
Are you intrigued? If so, then now would be a great time to have a look at our website and see what kind of options we offer. You might be shocked at what we have available, but even more shocked at how it can both change your life and keep money in your pocket at the same time. Remember, the next time you think "remodel," think "respray"', instead. Your wallet will thank you!
Step One
Send us a photo by email, text, or Whats App. From that, we will email you back a full quotation. If you like what you see then we advise to visit our showroom.  There you can see over 50 sample doors and finishes. We can help you select your colour and book your Kitchen respray job in.
Step Two
Most Kitchens take 3 days. Day1 we collect your doors and spray them in our workshop. Day 3 we Spray the carcass in your home and fit the doors back. Done and dusted your Kitchen is only out of action for less than one day. Our product dries instantly and you can use your kitchen that evening.
Step Three
Enjoy your newly transformed kitchen. Irelands number 1 spray paint company fully guarantees all work. We only use the very best products money can buy and state of the art equipment. All this ensures the the fact your kitchen has been done to a standard beyond the capabilities of other companies.
We are Ireland's Number One.
If you want an instant quote please link here
Can my wardrobes be resprayed?
We can help you renovate a vast range of favourite pieces – chairs, tables, dressers, wardrobes and many others. Spray painting is a simple, quick and efficient procedure. The durable coat of paint that we'll air spray on your furniture is going to extend its lifespan by protecting it against adverse influences.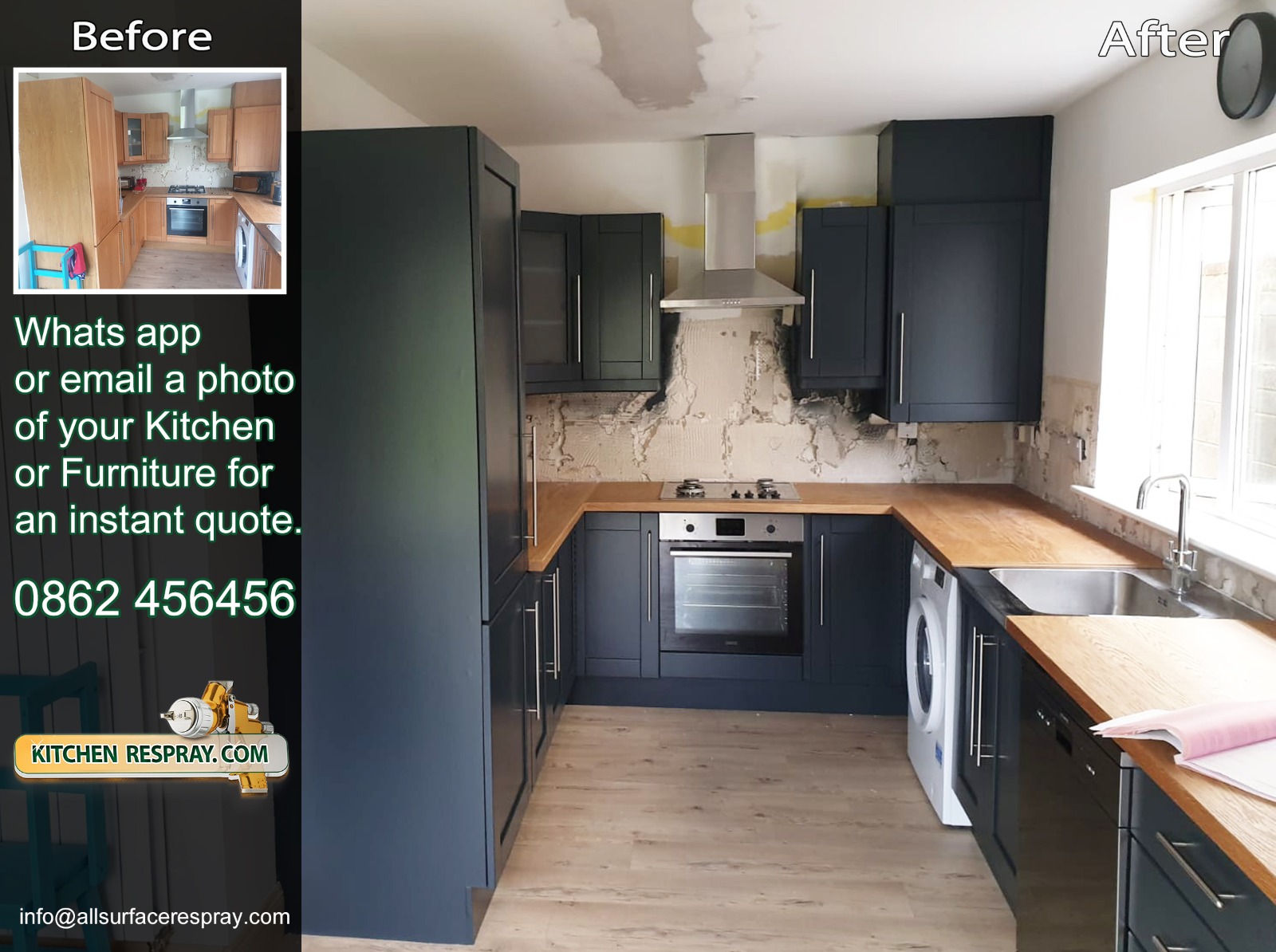 What kind of Kitchens ?
Unlike most spray paint companies, we have the technology to spray paint any surface, Wood, vinyl, foil wrap, PVC, Plastic. You name it we can spray it! We experts in multi surface spray painting. We guarantee all our work.
Call us or make an appointment to visit our showroom.